Connect to the System
NVR Setup
It is recommended to use a monitor of more than 19 inches that supports HDMI input, and it supports resolution of 1920*1080 or higher than 1080p.
(1) Power on the monitor.
(2) Connect the monitor to the NVR via HDMI or VGA port
(3) Connect USB mouse to the top USB port of recorder.
(4) Connect wireless receiver to the bottom USB port of NVR (marked as RX)
NOTE: Wireless receiver must be connected to the correct USB port, otherwise there will be no video displaying on the monitor.
(5) Connect NVR to 12V power supply.
(6) Connect NVR to the router using a Ethernet cable.
Camera Setup
(1) Remove the battery fixing screw and pull out the battery from camera.
(2) Remove the label from battery charging contact and slot the battery back into the camera.
(3) Slot the battery back into the camera and tighten the screws.
(4) Install the antenna into the camera antenna hole and tighten (if it is not tightened, the camera's WiFi signal will be weak).
NOTE: After the battery is installed, the device automatically powers on and makes a sound, indicating that the camera is ready to work.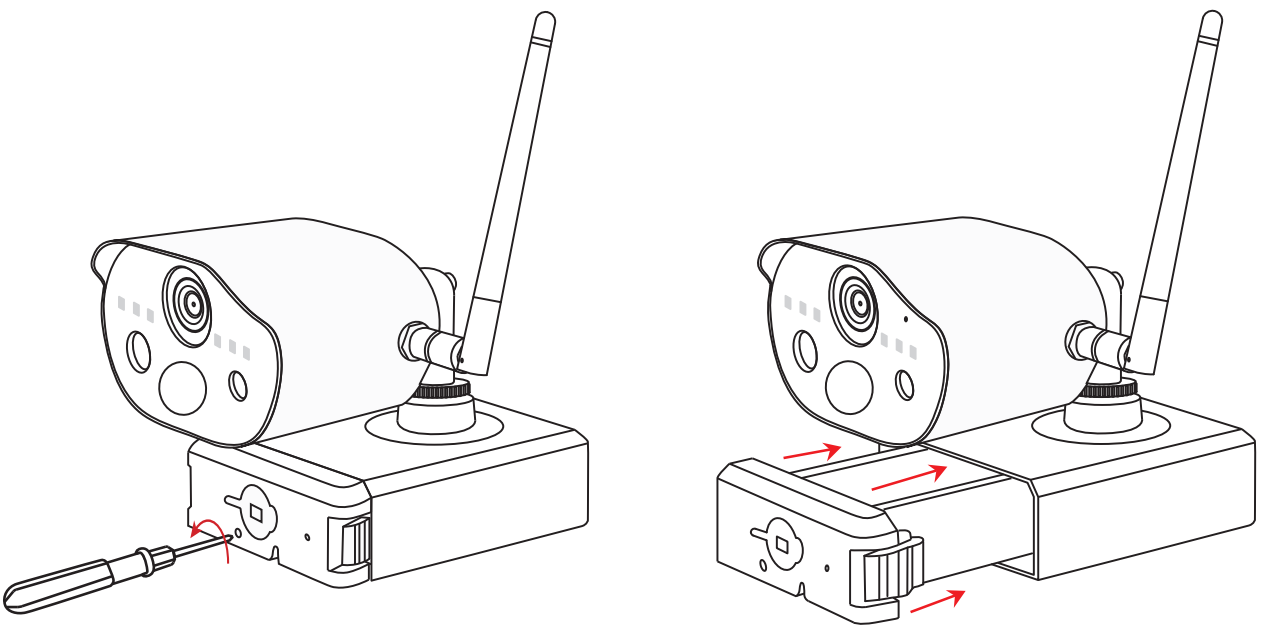 NOTE:
(1) The camera and NVR are paired by default at the factory. If there is no picture on the monitor, please check whether the wireless receiver is correctly connected to the USB interface on NVR (marked as RX).
(2) It is recommended to place the camera and the NVR within range of 2 meters when testing. After the NVR is successfully set up and display videos, install the cameras to where you want.
(3) If only one of the channels has no video displaying during the test, please follow the step:
https://supports.zositech.com/hc/en-us/articles/360051222492-ZOSI-C301-Camera-Rematch-or-Add-New-Cameras
Please let us know if you have any questions.
Our Whatsapp: +1-866-841-6932
Support Email address: service@zositech.com
Our Facebook: https://www.facebook.com/ZosiTechnology/
Support center: support@zositechhelp.zendesk.com