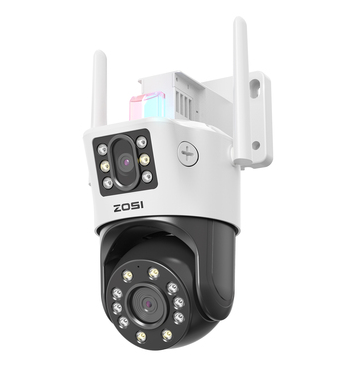 Camera Specifications:
The Model 298 camera is equipped with two different types of lenses - a gun camera and a dome camera, both offering exceptional clarity and precision. The gun camera offers a 4MP+4MP resolution and a wide 110° horizontal and 60° vertical field of view, providing a comprehensive view of the surroundings. With a 3.08mm focal length and fixed focus, it ensures high-quality images without the need for constant adjustments.
On the other hand, the dome camera boasts a 43° horizontal and 24° vertical field of view, allowing for precise monitoring of specific areas. Its 50° diagonal field of view ensures a wider coverage range. The camera's 8.0mm fixed focal length guarantees clear and detailed images.
Versatile Rotation Capability:
Both the gun camera and the dome camera offer impressive rotation capabilities. With the ability to rotate 355 degrees horizontally, they
provide a broad coverage range, ensuring that no angles are left unmonitored. Additionally, the cameras can rotate up to 140 degrees vertically, allowing for optimal monitoring angles and eliminating any potential blind spots in the surveillance footage. This versatile rotation capability ensures that users have complete control over the camera's positioning, further enhancing its effectiveness in capturing important details and providing comprehensive surveillance coverage.
Body:
1. Outstanding Clarity and Detail:
Equipped with a 4MP+4MP resolution, the Model 298 delivers unparalleled clarity and exceptional detail, ensuring that every image captured is sharp and vivid. Whether monitoring outdoor areas or indoors, the camera guarantees high-quality footage, providing peace of mind.
2. Impressive Rotational Capability:

With approximately 355 degrees of horizontal rotation and 140 degrees of vertical rotation, the Model 298 covers an extensive area, significantly reducing blind spots. This impressive rotational capability ensures thorough surveillance, thus maximizing security and situational awareness.
3. Versatile Night Vision Modes:
The camera's multiple night vision modes enhance visibility in low-light conditions. Whether using infrared illumination or other cutting-edge technologies, the Model 298 adapts to various lighting situations, providing clear and detailed footage even in complete darkness.
4. Advanced Motion Detection and Recognition:

Designed to detect and recognize both vehicle and human movements, the Model 298 offers an exceptional level of security. Its intelligent algorithms precisely identify and track any suspicious activity, ensuring prompt alerts and appropriate actions when necessary.
The advanced motion detection and recognition capabilities of the Model 298 provide reliable security against potential threats. The camera's algorithms analyze the captured footage in real-time, distinguishing between normal movements and abnormal behavior. Whether it's a moving vehicle or a person entering the camera's field of view, the Model 298 can accurately detect and track their movements.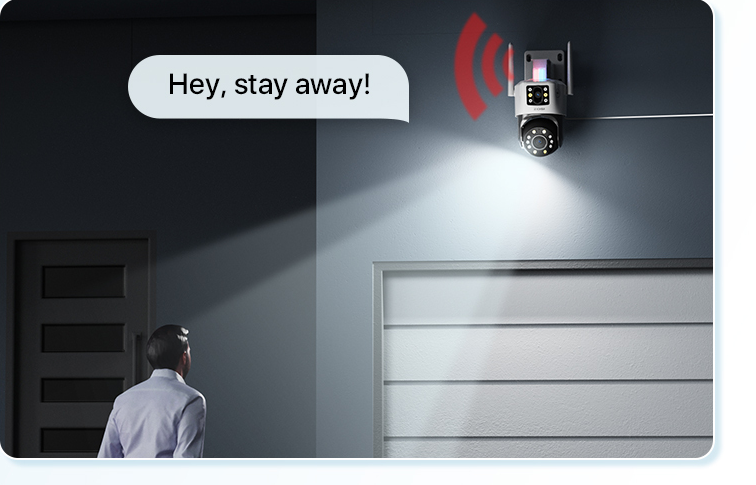 5. User-Friendly Interface:


The Model 298 features a user-friendly interface, making it accessible and easy to use for both professionals and amateurs. Its intuitive controls and navigation ensure effortless setup and operation, allowing users to customize settings and optimize performance according to their specific requirements.
6. Reliable and Durable Construction:

Crafted with robust materials and advanced technology, the Model 298 ensures durability and longevity. Its sturdy construction makes it resistant to harsh weather conditions, allowing for reliable performance in both indoor and outdoor environments.
7. Seamless Integration and Compatibility:

The Model 298 seamlessly integrates with various security systems and applications, providing a comprehensive surveillance solution. It is compatible with popular monitoring platforms, allowing users to access and control the camera remotely, enhancing convenience and flexibility.
8. Secure Data Protection:


Data security is a top priority, and the Model 298 guarantees the protection of sensitive information. It supports encrypted data transmission, preventing unauthorized access or interception, ensuring the privacy of captured footage.
9. Easy Installation:
Setting up the Model 298 standalone camera is hassle-free, requiring minimal effort and time. It comes with a comprehensive installation guide and mounting accessories, allowing users to quickly install and start monitoring their desired areas.
10. Dedicated Customer Support:
Purchasers of the Model 298 can rest assured knowing that they have access to dedicated customer support. The manufacturer provides responsive and knowledgeable assistance, offering troubleshooting guidance and timely responses to any queries or concerns.
11. Competitive Pricing:
Despite its extensive features and advanced technology, the Model 298 comes at a competitive price point, making it an excellent investment for individuals, businesses, or organizations seeking a cost-effective yet high-quality surveillance solution. The affordability of the Model 298 allows for wider accessibility, ensuring that more users can benefit from its exceptional features without breaking the bank. Whether for personal use, small businesses, or large organizations, the camera's competitive pricing justifies
What will you receive in the package:

Don't hesitate! Please go to check our zosi store to search c298 and have a look.You will like it.
Besides,here is the contact way to zosi team.
Whatsapp:+1-866-841-6932
UK Whatsapp: +86 18675610962
Zosi Smart APP: