This upgrade file works for the ZM2258D Cameras . (This file can help you to fix the issues which Camera started to switch (flickering) back and forth from color to night vision.)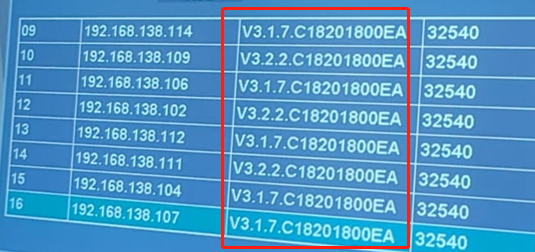 You can find your camera's model number and the version on the ipc channel config.
If your camera is V4xxxxxxxx begin ,you cant work on this upgrade file!!!This is working on the version V3XXXXXXX begin.
After you have finished the Upgrade on the Poe Nvr,
You can follow up the guide below to upgrade the C225 4k Poe Cameras :
1) You needn't open the upgrade files, please directly download the upgrade files and save them to your U-disk. And your usb can be regonised from the nvr.
(Please save the upgrade file V3.2.4.C22501800EA.img(For cameras)in the root directory, not save it under any other folders.)
Note: to perform this process, you will want to use a USB 2.0 drive ideally 16 GB or less in size, formatted in FAT32.
Some customers have reported issues when downloading this file using the "Microsoft Edge" browser.
If the file was downloaded using the Microsoft Edge browser, this will cause the file to be converted to a text file, which can't be read by the NVR. We recommend using a different browser for this process.
If you're unfamiliar with how to format a USB in FAT32, this video provides the steps:
2) The file's name must remain exactly as listed in the article for the NVR to recognize IT as an update.
It should be V3.2.4.C22501800EA.img , if the file name is changed to V3.2.4.C22501800EA.img(1), the upgrade will be failed.
3) Please go to main menu -IPC Channel Configuration - Select the camera to be upgraded and click Upgrade. Please click start Upgrade and wait for the automatic upgrade. You can see the messages pop up "succeed".
4) Please note this version is the same as before. You need to delete the camera you upgraded and wait for the image to be automatically displayed. And you will check that it will have a new version now.
If the upgrade is successful, please go back to the ipc channel config,
check if the firmware version have changed.
If the upgrade is failed, we suggest you change another U-disk or USB port to try.
Please let us know if you have any questions