How to use a new Gmail account to set DVR mail alarms?
1. Register a new Gmail account, and log in.
2. Here are the instructions for creating the App specific password since Google changed the security setting last May: https://support.google.com/mail/answer/185833?hl=en-GB
Sign in using app passwords
An app password is a 16-digit passcode that gives a non-Google app or device permission to access your Google Account. App passwords can only be used with accounts that have 2-Step Verification turned on.
When to use app passwords
To help keep your account secure, use 'Sign in with Google' to connect apps to your Google Account. If the app that you're using doesn't offer this option, you can either:
Use app passwords to connect to your Google Account
Switch to a more secure app
Create and use app passwords
Note: If you use 2-Step-Verification and are seeing a 'password incorrect' error when trying to access your Google Account, an app password may solve the problem.
Go to your Google Account.
On the left navigation panel, choose Security.
On the 'Signing in to Google' panel, choose App passwords. If you don't see this option:

2-Step Verification is not set up for your account
2-Step Verification is set up for security keys only
Your account is through work, school or other organisation
You've turned on Advanced Protection for your account

At the bottom, choose Select app and choose the app that you're using.
Choose Select device and choose the device that you're using.
Choose Generate.
Follow the instructions to enter the app password. The app password is the 16-character code in the yellow bar on your device.
Choose Done.
Most of the time, you'll only have to enter an app password once per app or device, so don't worry about memorising it.
You need create a password and then use it to login to IMAP mail with it. Please try the sensitivity setting. I thought the lower the number the lower the sensitivity.
3. Please check Gmail through other email platforms
Set up IMAP and change your SMTP settings to read Gmail messages in other mail clients, like Microsoft Outlook and Apple Mail. When you use IMAP, you can read your Gmail messages on multiple devices, and messages are synced in real time. You can also read Gmail messages using POP.
Important: To avoid temporarily locking yourself out of your account, make sure you don't exceed 2500 MB per day for IMAP downloads and 500 MB per day for IMAP uploads. If you're setting up a single IMAP account on multiple computers, try taking a break between each setup.
Step 1: Check that IMAP is turned on
On your computer, open Gmail.
In the top right, click Settings See all settings.
Click the Forwarding and POP/IMAP tab.
In the "IMAP access" section, select Enable IMAP.
Click Save Changes.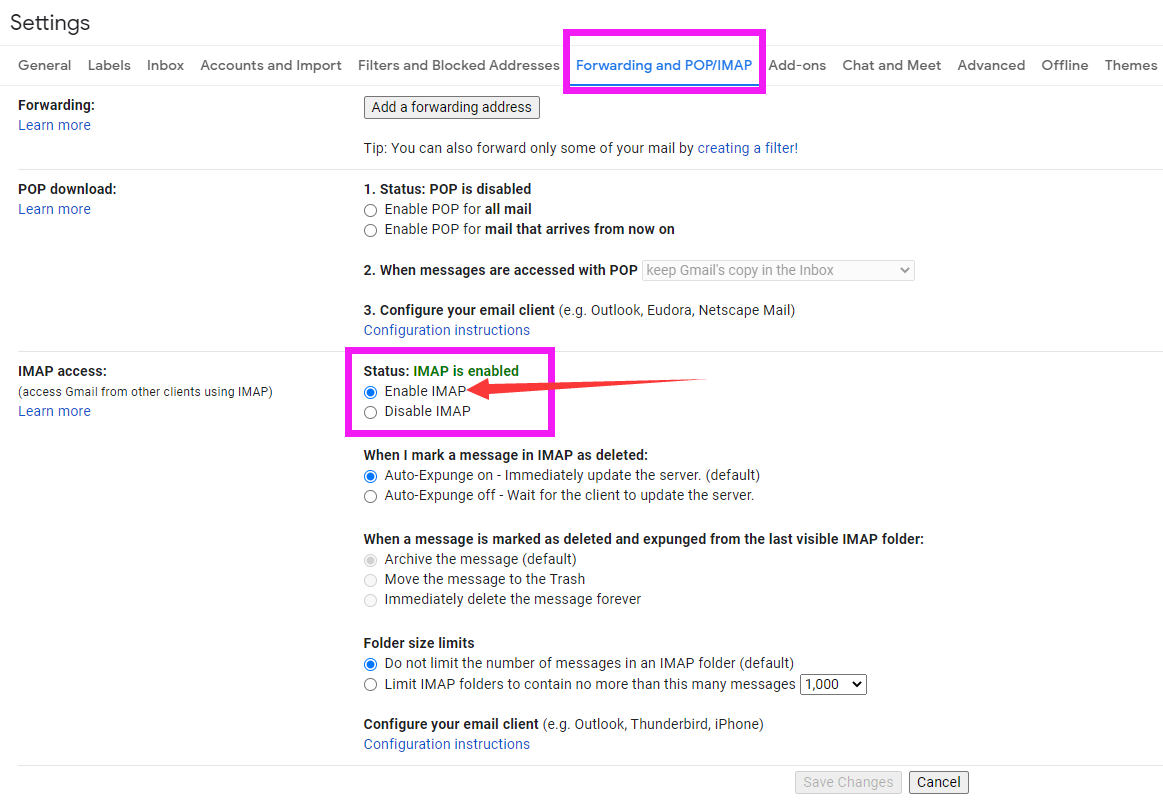 Step 2:
Change SMTP & other settings in your email client
Use the table below to update your client with the correct information. For help updating your settings, search your email client's Help Center for instructions on setting up IMAP.
Incoming Mail (IMAP) Server

imap.gmail.com

Requires SSL: Yes

Port: 993

Outgoing Mail (SMTP) Server

smtp.gmail.com

Requires SSL: Yes

Requires TLS: Yes (if available)

Requires Authentication: Yes

Port for SSL: 465

Port for TLS/STARTTLS: 587

Full Name or Display Name

Your name

Account Name, User name, or Email address

Your full email address

Password

Your Gmail password
Lastly, please make sure your email account is enabled: you can check this link:
https://accounts.google.com/b/0/DisplayUnlockCaptcha
Then you can get these messages popping up;


4. Get into DVR system. Right click mouse > select Main Menu > Setup > Network to check the local area network is connected successfully.
Then, select Main Menu>Information>Network to check if your DVR's network connected successfully.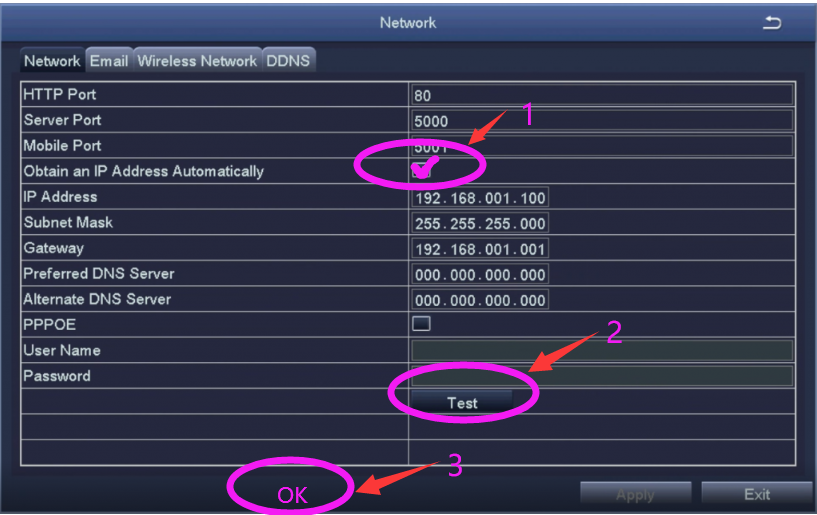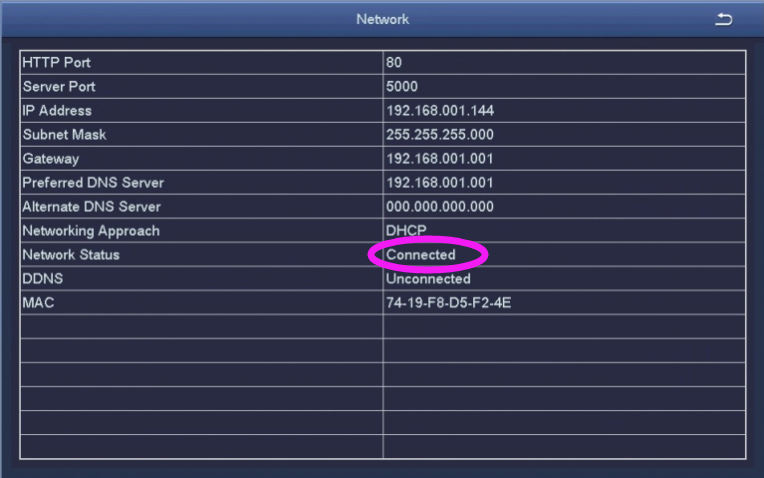 5. Right click mouse>select Main Menu>Setup>Network>Email.
Input your Gmail SMTP Server (smtp.gmail.com) in" SMTP Server"
Port: if the 465 port doesn't work, please change it to 587 port to test,.
Input your Gmail account in "Send Address"
Input your Gmail password in "Password"
Input your three inbox address in "Receive Address1\2\3"
After that, click "Apply">click "Text".
6. When the system remind you" Test Email-Successful", which means DVR's mail alarming is set successfully.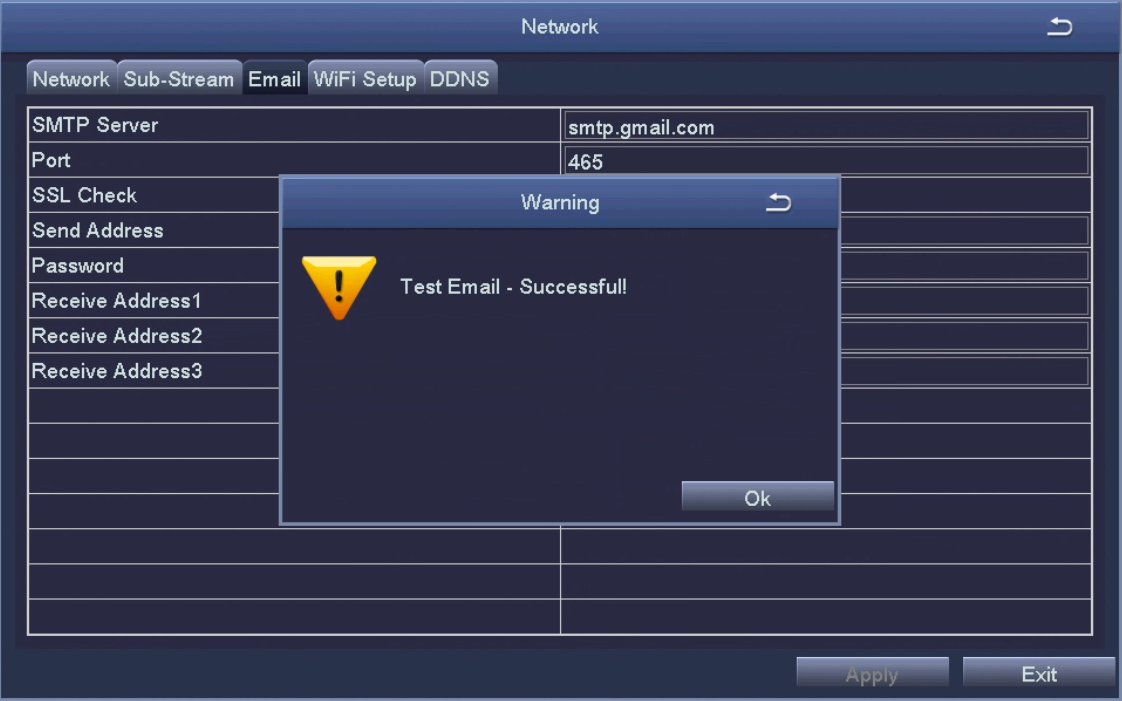 Please let us know if you have any questions:
Our Whatsapp: +1-866-841-6932
Support Email address: service@zositech.com
Our Facebook: https://www.facebook.com/ZosiTechnology/
Support center: support@zositechhelp.zendesk.com