Applies to: All Zosi cameras
If you see horizontal lines scrolling on the live view image, there are two situations:
1. There are 1-2 horizontal lines in the middle or side of the live stream image.
2. There are horizontal lines all over the live stream image.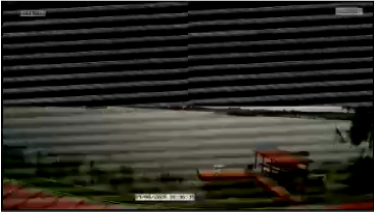 Cause and Solution:
1) There are strong electromagnetic radiation sources near the camera, such as high-voltage cable, high-power motor, etc.; the camera should be effectively grounded to avoid interference sources, and the transmission cable with better shielding performance should be used.
2) The grounding level of the camera nearby is inconsistent with that of the DVR; the camera can be insulated from the ground.
3) The input voltage is lower than the working voltage required by the camera, resulting in the camera can not enter the normal working state; Try to choose the original power adapter for power supply, and the specific power supply parameters of the camera are shown in the product parameter table.
If your camera's live image with horizontal lines, and you confirmed the problem is not caused by the environment, please upgrade the firmware for this camera to the latest and also hard reset this camera. If the image is still the same, please contact Zosi support team for a warranty.
Our Whatsapp: +1-866-841-6932
Support Email address: service@zositech.com
Our Facebook: https://www.facebook.com/ZosiTechnology/
Support center: support@zositechhelp.zendesk.com