Applies to: ZSWNVK-G82041-W,NVR system,Security Camera systems,Security Camera,Suiverllance system,Wireless security cameras,Zosi security cameras
Are you looking to incorporate a wireless camera security system into your surveillance setup? Do you want to protect your house or your business with a wireless camera security system that provides complete protection? Would you like to receive the best prices for security cameras to implement into your new or upgraded wireless camera security system? If any of these questions relate to you then come browse through our Zosi wide selection of security cameras, surveillance equipment, and associated protection accessories at our ZOSI :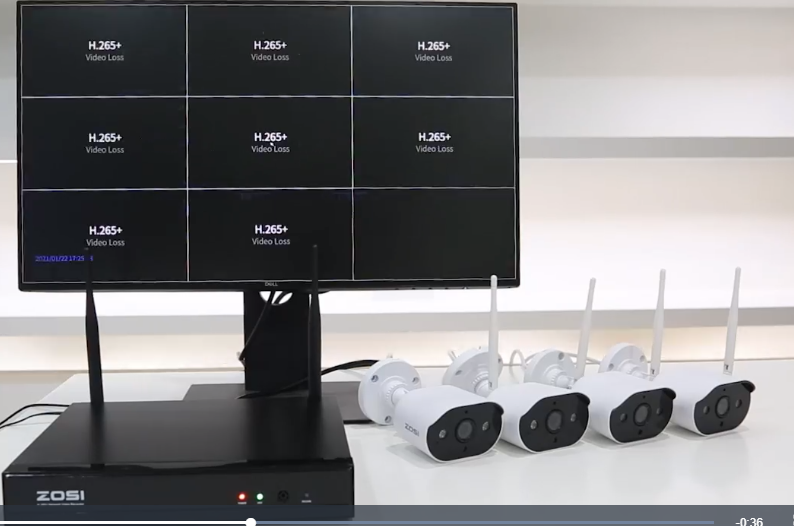 https://store.zositech.com/products/w4-wifi-security-camera-system-ai-human-detection-light-siren-alarm
In order to obtain a fully protective and operational wireless camera security system there are a few components to take into consideration. A wireless camera security system includes more than just security cameras. The other major parts to keep in mind for your wireless camera security system include video recorders, network connectivity, and the installation process. Throughout this article I will relate to you some of the details and descriptions of the products we offer here at zosi and lay out the importance of diving into this process with a team of professional security experts. I will also provide you with a list of different businesses that we partner with to offer a fully immersive security plan for your house, business, or other applicable location. In essence, we are involved in every facet of our respective security industry and aim to give our clients a complete source of information to get the most from their wireless camera security system.
Let me begin by explaining the differences between the various styles of security cameras available for a wireless camera security system. Security cameras are the obvious primary products that allow a wireless camera security system to operate as originally hoped. Each style differs from the other brand and involves a uniquely designed system and design.here is the zosi ZSWNVK-G82041-W.
May be you think it is the most common and traditional style found throughout the world but it may precisely called Classic and elegant wifi systems.
Box Recorder Design:
Black Knight appearance,Dual antenna design,simple structure on the back :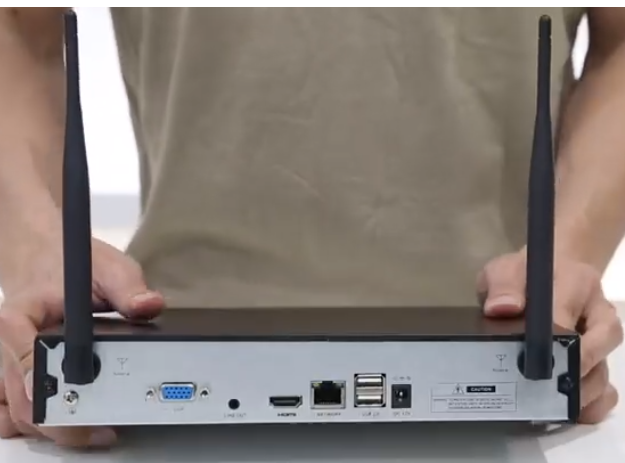 Audio Output: 1CH, RCA port (linear level, impedance: 600Ω)
HDMI / VGA Output: 1920×1080, 1280×1024, 1280×720, 1024×768
Video & Audio Encoding and Decoding:
Video Compression Standard: IP channel supports 2.0Mp H.265+
Video Encoding Resolution: 1080P/960H
Video Bit Rate: 32Kbps~10Mbps
Stream Type: Fixed Stream/Variable Stream
Dual Stream: Support dual-stream network transmission
Audio compression standard: G.711a
Synchronous Replay: 4 Channels
Image Settings: Settings of the brightness, saturation, mirroring, color and etc. for the cameras
WiFi:
Antenna: Dual Antenna
Wireless standard: IEEE802.11b/g/n
Frequency Range: 902MHZ-928MHZ
Channel Bandwidth: 20MHz
Transmission Rate: 11b: 11Mbps,11g :54Mbps,11n :150Mbps
Add Device: Support WiFi IPC and WiFi NVR directly connected via Ethernet cable
Transmission Distance: 300m in open areas (non-cascading), 500m cascade connection
Wifi IPC - bullet security camera design:
Megapixels:2MP,
Sensor: 1/2.9" Progressive Scan CMOS
Shutter: Shutter adaptive
Lens: 3.6mm @ F2.0 90°
Lens Interface: M12
Minimum Illumination: 3Lux(Color mode),0.2Lux (B&W mode), 0Lux with IR-LEDs ON
White Light: 2pc (Turn it on at 10meters in night vision mode to change into the full color night vision)
Day/Night Mode: ICR infrared filter
Infrared Distance: 100ft (in ambient light), 65ft (in total darkness)
Compression Standard:
Video Compression Standard: H.265/H.265+ Main Profile
Video Compression Rate: Ultra HD & SD, self-adaptive video bit rate
Audio Compression Standard: G.711A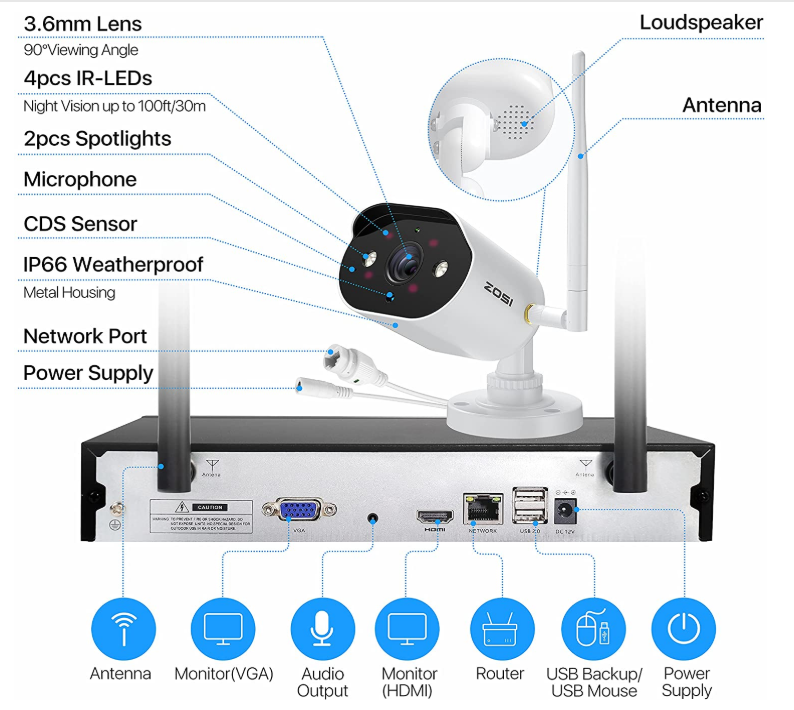 Image:
Maximum Image Size: 1920x1080 (Dual stream)
Frame Rate: 15fps (self-adaptive network frame rate)
Image Settings: Brightness, Acutance, Contrast and Saturation (set up via NVR)
Privacy Masking: 4 blocks (set up via NVR)
WiFi:
Wireless Standards: IEEE 802.11b/g/n
Frequency Range: 2.4 GHz ~ 2.4835 GHz
Channel Bandwidth: 20MHz
Transmission Rate: 11b: 11Mbps, 11g :54Mbps, 11n :150Mbps
Network protocol: HTTP; DHCP; DDNS; IPv4; NTP
General:
Working Temperature & Humidity: '-10℃~60℃, humidity < 95% (non-condensing)
Power Supply: DC 12V±10%
Power Consumption: MAX
Ingress Protection: IP66 (waterproof & dustproof)
Dimension(mm): 72mm*72*150mm
Weight: Bare machine
When you buy a wireless camera security system from zosi you will receive a high-end wifi system that will allow you to review the captured footage from any mobile device with a stable internet connection for your convenience. This means that no matter where you are or what time you feel inclined to do so you will be able to view exactly what is happening at your property in an easy and efficient manner.
【Advanced Mesh WiFi System】--To ensure stronger WiFi signals, this system adopt the latest security grade WiFi chip. Cascade algorithm provides a longer range (up to 3000ft in open areas)wireless connection as well as improved penetration through walls and obstructions.
【Smart Light and Sound Alarm】-- This camera is alert and ready to react to any potential danger via smart light and sound alarm system - triggered by human motion events or controlled manually to keep troubles away. Built-in 2pcs brilliant white lights and high-pitched siren (up to 85dB) offering double insurance and let you stay protected even when you are asleep. And you won't miss any moment with remote and local playback.
【View from anywhere anytime】-- setup with free app and scan QR code to access real image on phone. Check in on your home or business wherever you have an internet connection. Free app for live view & Playback on smart devices with Wi-Fi or 2G/3G/4G anywhere anytime.
【Talk and listen just like never leave home】-- Built-in mic and speaker let you stay in touch with your household. Check in with the family or tell your dog to stop barking, or say hello through the ZOSI Smart App.
If you're looking for a wifiCamera System Security zosi has a large selection of cameras, NVRs, and even access control products that you can choose from. If you're having a hard time deciding what system is right for you, feel free to contact us,we will be happy to help you choose the best system for you.
Please let us know if you have any further questions:
Support Email address: service@zositech.com
Our Facebook: https://www.facebook.com/ZosiTechnology/
Support center: support@zositechhelp.zendesk.com